North Adams, Massachusetts is a postindustrial old factory town with little hope. 
North Adams, Massachusetts is a vibrant center for the arts poised to take off. 
Which of those two statements is true? How about both? 
North Adams is one of of dozens of similar towns spread across New England, and similar to small Pennsylvania manufacturing towns centered on steel, coal, and railroads. However, cities like North Adams, Lowell, Pawtucket, and others also produced a broader range of goods which supplied the world with textiles, clocks, brass, firearms, and 20th-century electronic components. 
What happened in New England factory towns also happened in Pennsylvania towns and in other rustbelt towns. It's an old story: factory closures or relocation combined with changes in global trading patterns. The result? Subsequent impoverishment and depopulation of communities.
But Didn't Everything Change in 1999?
Yes, things changed. The Massachusetts Museum of Contemporary Art ( hereafter Mass MoCA) sprang from the head of the Museum of Art at Williams College, Thomas Krens (who later became the controversial leader of the Guggenheim). When he had the idea, he happened to be standing next to the Mayor of North Adams, who asked if Krens could use one of the last abandoned factories as a museum. The idea stalled until the aristocratic William Weld, the then Governor of Massachusetts, dropped into North Adams on his way to his hunting camp in the Adirondacks, and thought Mass MoCA could help the town. So the Commonwealth of Massachusetts dumped about $85 million into the project; there was some matching foundation funds. Since its opening, it's hard to determine if Mass MoCA reached the objective of turning the city around. An observer has to learn to filter the rah-rah marketing from reality. And because Mass MoCA stands apart as North Adams' unicorn, let's start by putting the museum into its silo. 
Why, after millions of dollars spent and hundreds of thousands of visitors since Mass MoCA's opening in 1999 has the city not benefited as much as it could have? 
Though the relationship of Mass MoCA to the continuing problems of North Adams is not apparent, valid issues of urban layout and disincentives to invest are ongoing problems.
Problems and Solutions Closer to Home
Regional planners and urban designers note that the streetscape in North Adams may not be conducive to attracting visitors to its Downtown area. Many businesses hoping to capitalize on the presence of so many well-heeled visitors have been disappointed for almost 25 years. The planners have a point. I've visited North Adams many times before and after Mass MoCA opened. However, getting from Marshall Street to Downtown takes some work. The Mohawk Trail (State Highway 2) terminates there, changing from an elevated multilane highway and then splaying out into a fenced streetscape bordered by large parking lots. It's a significant pedestrian barrier to just getting to Main Street.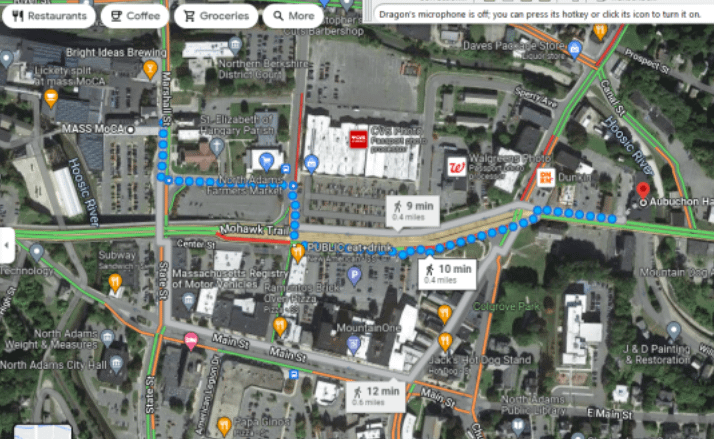 Mass MoCA to Downtown: Lots of Lots and a Long Trek
Can't Get There From Here: Museum to Downtown 
Once a visitor reaches Main Street, the north side presents a classic view of the late 19th-early 20th century mercantile buildings. On the south are one-story buildings of reasonably recent vintage and many flat-top parking lots.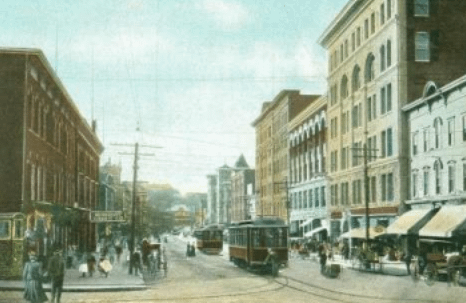 Main Street, 1906 (public domain)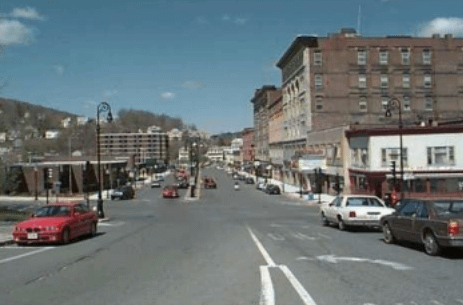 Main Street, 2012 (public domain)
The satellite view of the city demonstrates how much of North Adams has already been demolished and hollowed out. 
Blaming globalization and deindustrialization is tangential and irrelevant to an effective response. North Adams cannot be" solved" by another Edifice Complex or more big-government intervention and support. Economic development is not supposed to be like methadone maintenance, but to provide (as the tired old cliché goes) "a rising tide that lifts all boats." That's not happening here. While a community asset like the museum can thrive and attract visitors, the museum doesn't suffer from the millstone tied around the neck of North Adams: the prohibitively high cost of doing business. 
North Adams has a business and personal property tax rate of 39.26 mills, nearly tied with the rate of Pittsfield (another struggling postindustrial city in Berkshire County). Massachusetts is rare in the United States in that it permits localities to impose two different property tax rates: residential and non-residential. The thinking was to spare homeowners from high property taxes and keep them in town. 
Well, that didn't work. North Adams has steadily declined from a high in 1940 of 22,200 people to a 2021 census figure of 12,880. When people leave, commerce follows. As the North Adams tax rates show, the fewer the people and businesses, the higher the tax bills. 
That's called "the race to the bottom." An entrepreneur who wants to open a restaurant in North Adams will have to pay 2.25 times the tax on buildings instead of shishi Great Barrington. Great Barrington is low taxed and prosperous (with high wealth concentration as opposed to wage concentration). Great Barrington also has a geographic advantage: it's close to New York City and not too far from the last Metro-North rail stop.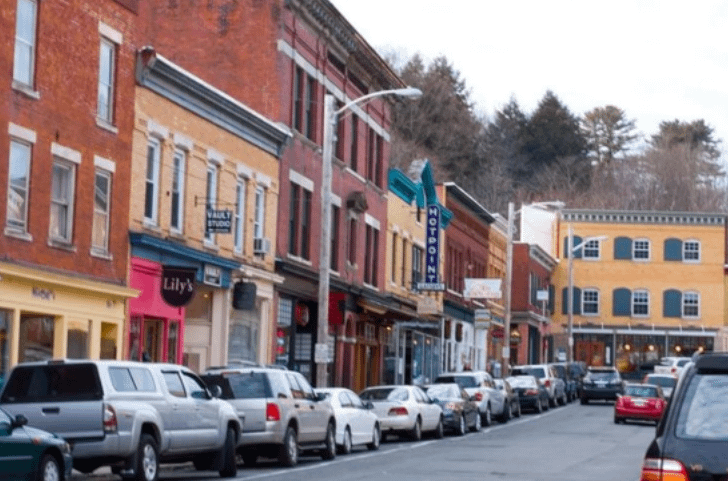 Great Barrington: this is just a side street, and it's rocking.
The difference shows up in real estate (as always!). For example, 2021 census figures show that, in Great Barrington, the median owner-occupied value of a property is $370,400. In North Adams, it's $149,300. Meanwhile, while Great Barrington has similar bones to North Adams, the commercial rents are high and there are many prestige businesses. 
There is a fundamental cleavage between Mass MoCA cheerleading and North Adams reality.
"MoCA is a little like supply-side economics: Give money to the museum, and it will trickle down. It's a fallacy."

Main Street, Still Hoping
Even just considering Berkshire County (itself declining in population and general wealth), it's not even a fair fight between North and South County. Take a look at the differences in tax burdens.
Restaurants, boutiques, galleries, and other businesses that one would expect to prosper due to the museum's proximity face not only the problem of getting from Mass MoCA but a very noticeable disadvantage in the town's tax system. The following table splits the rates into residential and non-residential and is sorted by highest to lowest tax rates. Not surprisingly, North Adams (and Pittsfield) maintain the highest tax rates for non-residential parcels, with a corresponding barrier to private capital and labor investment.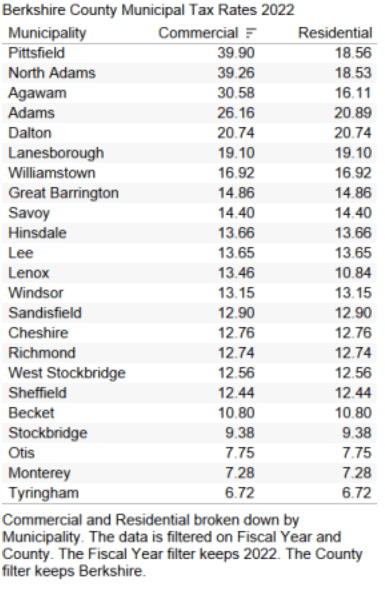 Not only does North Adams have the highest area rate, but this rate has not been static over the decades; hence, it's an ever-heavier anchor.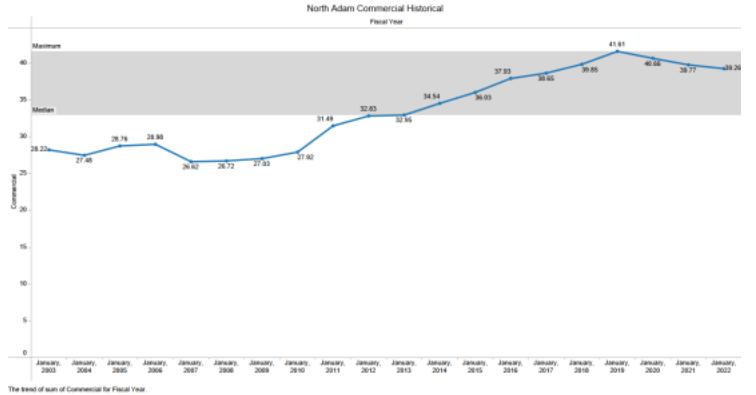 Massachusetts Department of Revenue, tables created by the Center for the Study of Economics
Abatements provide a clue to a solution. Because the property tax immediately punishes anyone who improves or invests in the city, abatements offer temporary relief from taxation. If interim relief is such a good idea, then perhaps permanent building abatements are better. Revenue could be garnered from one singular resource: North Adams has an abundance of vacant land. That land tax could be the spur to get landowners thinking about building rather than warehousing land. The program of permanently exempting all buildings and personal property would complement the impact of traditional abatements. Sufficiently capitalized start-up businesses could then take advantage of the better investment environment and the presence of Mass MoCA. 
CPTR recommends a deeper study of North Adams to find fiscal and tax strategies to complement Mass MoCA's significant investment and return potential.
https://mliakd0peh7e.i.optimole.com/MsTeNkY-heQ_b0fG/w:auto/h:auto/q:mauto/https://centerforpropertytaxreform.org/wp-content/uploads/2022/06/Mass-MoCA-Featured-Graphic.png
600
1200
Joshua Vincent
https://mliakd0peh7e.i.optimole.com/MsTeNkY-thF07w05/w:150/h:150/q:mauto/rt:fill/g:ce/https://centerforpropertytaxreform.org/wp-content/uploads/2020/02/CPTR-Logotransparent-bg.png
Joshua Vincent
2022-06-29 18:36:36
2022-09-12 08:21:41
Mass MoCA: When Does Public Investment Pay Off?