NYC VACANT LAND Part 2: Investigating Vacant Land in Gentrified Neighborhoods
By Kevin Frech: Geospatial Developer at the Center for Property Tax Reform
 In Part 1 of our NYC Vacant Land series, we provided  an introduction to the methodologies and functionalities behind the Center for Property Tax Reform's new web map VacantLandNYC.com. In Part 2, we are going to take a closer look at some neighborhoods with high percentages of vacant land.
  As mentioned in part 1, the goal of this web map is not only to illustrate where vacant and underutilized parcels exist within the city, but also highlight the value of the proposed plan to tax these parcels at 5% of their market value. The intent of this new tax is to reduce land speculation in high-rent areas while simultaneously reducing land speculation in low-rent areas that may someday see the inevitable waves of gentrification that seem to ripple outward in all directions from Manhattan.
  A couple of council districts that stick out the most, and situated near the geographic center, are districts 26 and 33. It is no surprise that the council districts containing some of the highest rent outside of Manhattan, such as Green Point and Long Island, are ripe for land speculation.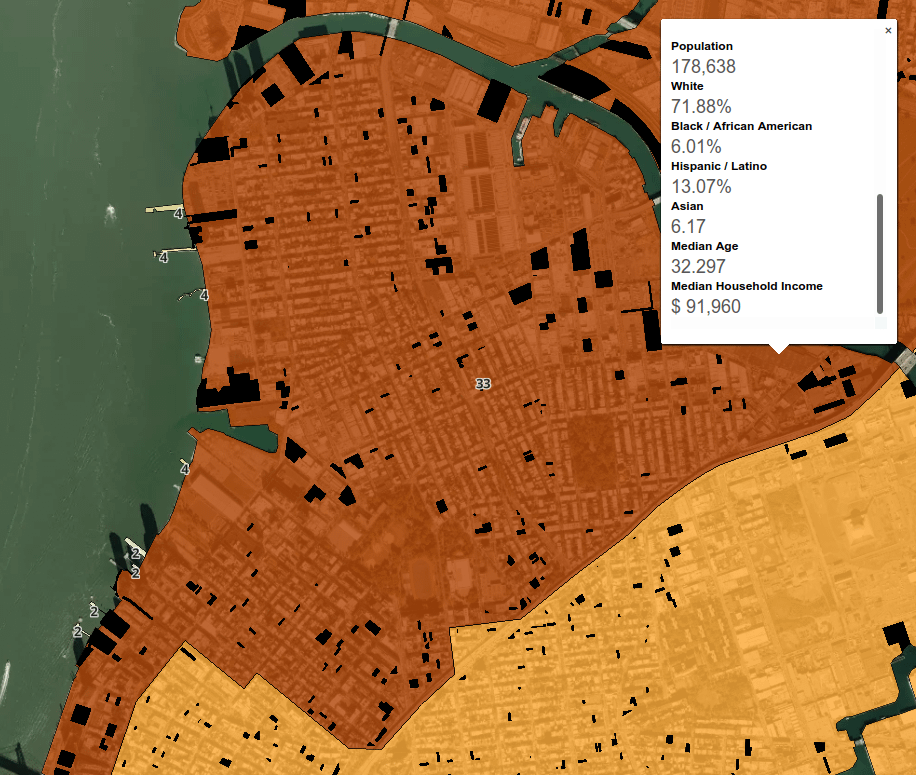 These districts have seen unrivaled gentrification in the past decade.  Between the two districts, the market value of vacant and underutilized parcels is nearly $1.8 billion. The proposed 5% tax that this land could bring to the city's budget is just under $100 million and it will  encourage more affordable housing to be built in the area.
As you can see from the demographic statistics in the images, these populations are relatively young, diverse, and have median household incomes higher than or similar to most council districts outside of Manhattan. It is not so much that the blight of vacant land is the issue, these neighborhoods are growing hotspots for those looking to leave Manhattan. The amount of land available for housing and commercial development needs to be able to grow with it.
The team at CPTR is also working on a project to identify large landowning speculators across the city in an effort to shed light on those who seek to hold on to land for their own gains rather than the benefit of the city. In future parts of this series on vacant land in New York City, we will look at how the blight of vacant land negatively affects some of the more economically depressed areas of the city.   
Please direct all questions and suggestions to Kevin Frech at [email protected].
Follow this link to see the full proposal for a new fifth property tax class.