NYC VACANT LAND Part 1: Introducing the NYC Vacant Land webmap
By Kevin Frech: Geospatial Developer at the Center for Property Tax Reform
In one of the most expensive property markets in the world, it is critical that land is used in the most efficient way possible in order to build meaningful and well-connected communities. The Center for Property Tax Reform (CPTR) recently looked at New York City's most current property tax rolls that revealed over 55,000 vacant and underutilized parcels that plague the city's 51 city council districts. This means that tens of thousands of parcels that could be used for affordable housing, commercial enterprises, or communal amenities such as parks and urban gardens are currently sitting empty or in decay.
A new mapping tool from CPTR, VacantLandNyc.com, visualizes these parcels and analyzes the impact that a new tax class – designed to tax these parcels at a higher rate – would have on the city's property tax revenue. The features offered with the new webmap will help those with a vested interest in property tax understand the issues at play and allow users to start exploring the city themselves.  
Upon entering VacantLandNYC, you will notice the webmap has two main layers. The first is the choropleth map of city council districts that is visible when the map initially loads. The darker the color, the higher percent of total parcel area is considered vacant or underutilized. This is calculated by taking the sum of the land area considered vacant or underutilized and dividing it by the sum of the land area of all parcels within the council district. Click on each city council district for more details – including number of vacant parcels, market value of vacant land, and tax revenue from a proposed 5% tax on the land's market value, as well as population and demographic statistics.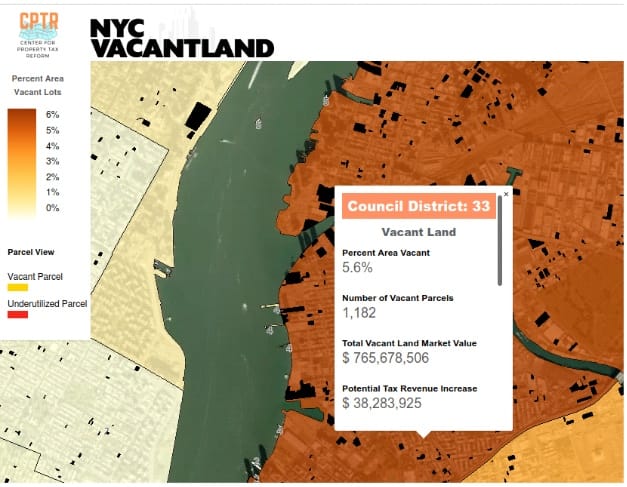 The second layer shows the ground coverage of the vacant and underutilized parcels themselves, which are represented by the black shapes when the map initially loads. View these parcels in more detail by zooming in until the choropleth layer disappears and the parcel layer turns from black to red or yellow. Yellow parcels are parcels categorized as "true vacant land" and red parcels are categorized as "functionally vacant/ underutilized land."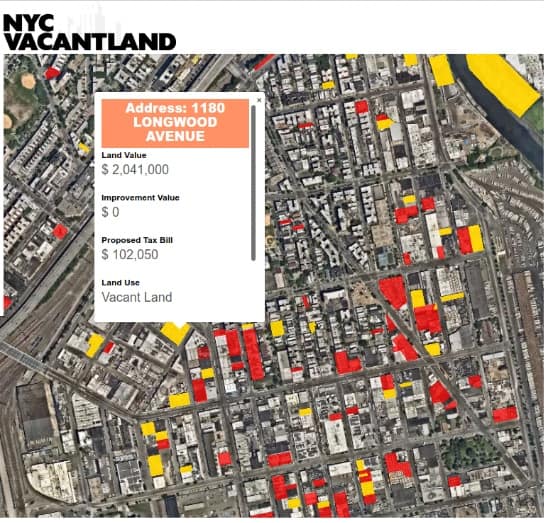 A parcel is classified as "true vacant land" if: the NYC PLUTO data set lists 'vacant land' as the parcel's land use or the parcel is listed as having no buildings on the property. If you are worried that this could include parks and community gardens, the CPTR team was able to filter out these land uses as they are vital to local communities. Since they are efficient and necessary uses of land, they do not deserve an increase in taxes.
Underutilized or "functionally vacant" parcels are pieces of land that have some manner of use.  They are not taxed at their full potential because they are not considered efficient to its fullest extent. Many of these parcels are paid single-level parking lots or simply side lots and alleys that have become de facto parking lots. These also include blighted properties who's building value makes up less than 15% of the parcel's total market value.
In part 2 of Vacant Land NYC, we will take a closer look at neighborhoods with the highest percentage of vacant land and explore how the Vacant Land NYC tool can help your neighborhood.
Please direct all questions and suggestions to Kevin Frech at [email protected].
Follow this link to see the full proposal for a new fifth property tax class.
Sources